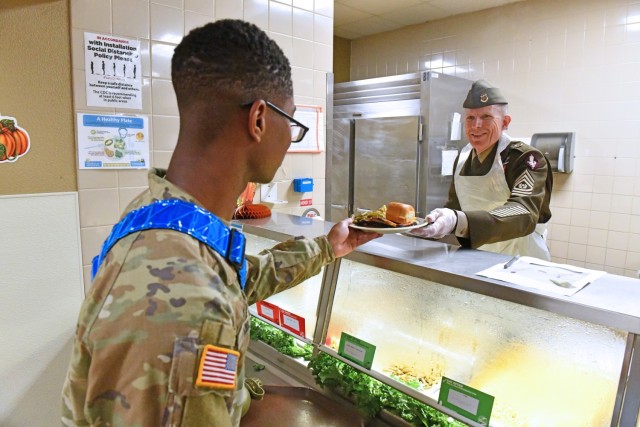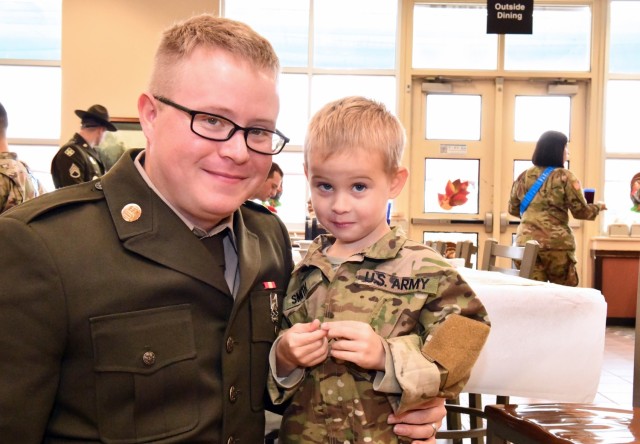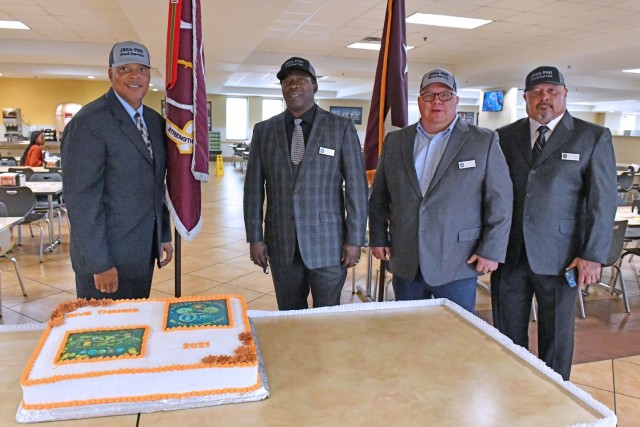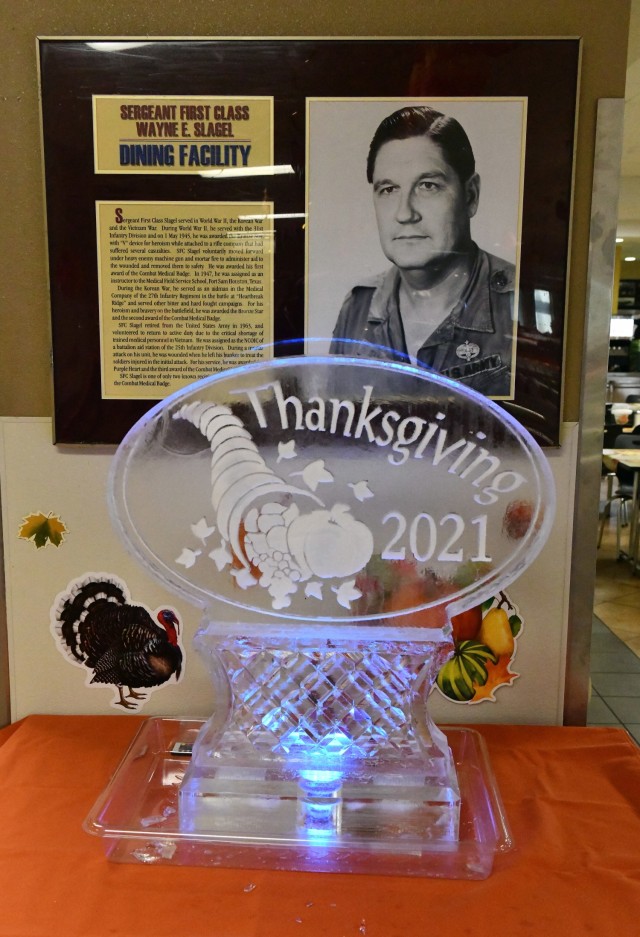 JOINT BASE SAN ANTONIO-FORT SAM HOUSTON, Texas – Major General Dennis P. LeMaster and Command Sgt. Major Clark J. Charpentier, of the US Army Medical Center of Excellence, or MEDCoE, Command Team, was all smiles as he had the pleasure of serving a special meal to Soldiers in Advanced Individual Training, or AIT. In what has become an Army tradition, senior leaders served Thanksgiving meals to soldiers at Joint Base San Antonio-Fort Sam Houston, or DFAC, on Thanksgiving Day, November 25, 2021.
Dozens of leaders and drill sergeants across MEDCoE have joined LeMaster and Charpentier to participate in the tradition of serving their troops, making DFACs feel right at home.
"I think it's important for soldiers to know that they have leadership present, that the leadership is involved and cares about them," LeMaster said between meals. "It sends a message: Hey, we want to be with you. LeMaster and Charpentier's spouses also helped serve. LeMaster said being with soldiers to start their own Thanksgiving has become a tradition for their family: "Traudi and I have been doing this for a number of years, wherever we have been stationed together, and we all look forward to it. two this looking forward to. "
JBSA's DFACs are used to serving thousands of meals a day and help prepare for the mission and boost morale, whether during the challenges of COVID-19 over the past two years or while on vacation. MAEC personnel took special care in making Thanksgiving special for the soldiers by providing an impressive feast consisting of healthy portions of turkey, ham, stuffing, potatoes, yams, macaroni and cheese, vegetables, yeast buns and many cakes and pies. Over 1,400 MEDCoE trainees have been served at Slagle DFAC and over 1,600 at Rocco DFAC. Staff also decorated the facilities with inviting seasonal displays, including an ice sculpture.
"This is our Super Bowl for the year," said James Brooks, director of food installation services at Fort Sam Houston, JBSA. "We are doing everything we can to ensure that soldiers make sure they receive a good meal and that they feel at home. "
Charpentier said it is important for the soldiers to put all the extra effort into the meal. "For the majority of soldiers, not only is it the first time that they have been away from home," Charpentier explained, "for many of them, it is the first time that they have to be away from home. at their home." While soldiers are determined to train and understand the sacrifice of their service, for some it can be lonely to be away. Pvt. Drew Burton, from West Virginia, said he particularly struggles with the separation as he is in a more restrictive phase of his 68W Combat Medic training. He and his battle companion, Spc. Matthew Burgess of Virginia, thinks their morale will be raised once they have obtained out-of-post privileges, expected this Saturday, for their AIT class assigned to Bravo Company, 232d Medical Training Battalion, 32d Medical Brigade.
Burgess, who came to MEDCoE after attending James Madison University, said it was not the first time he had been away from home; this is his first vacation away. "It's a bit difficult," said Burgess. "But I'm grateful for the things that we can control and I'm grateful to be here." Although the 32nd Medical Brigade has dozens of Thanksgiving-themed events throughout the weekend, Burgess plans to spend his free time dealing with friends and family, hanging out with his fight buddies. and to venture out of base later this weekend when day passes are granted in the next phase of training.
LeMaster agrees that some soldiers have a harder time than others during the holidays, but believes unit cohesion and camaraderie can help alleviate the difficulties. "It is difficult, but the army becomes a whole family," he said.
Charpentier believes it is important for young soldiers to accept that this could be the first of many vacations spent with their units sharing a festive meal while on duty.
"As they go along, the importance of being and bonding with this military family really connects," Charpentier explained. "Shared struggles and shared meals are usually the two ways we come together best as soldiers. "
This year, the tradition seemed more meaningful after a temporary suspension in 2020 due to health concerns related to the COVID-19 pandemic and widespread transmission rates. While the chefs joined the soldiers in the DFACs, they could not serve the meals. In recent months, the military and the nation have seen an improvement in COVID-19 conditions with the use of masks and other health measures, as well as the effective implementation of COVID-19 vaccines among staff. military, civilian employees and defense contractors. These gains allowed Joint Base San Antonio to lower the Health Protection Condition, or HPCON, to Bravo. Once again, senior leaders could show their appreciation to their troops by serving the annual holiday meal.
Mission Green Tab, as it's known because of the green markings leaders wore on their uniforms, is just one of the Thanksgiving traditions at MEDCoE, collectively known as Operation Thanksgiving. Other traditions, in which soldiers are invited to local community homes or attend a holiday meal hosted by Valero Energy Corporation, have been canceled for the second year in a row due to concerns about the community spread of COVID- 19. During Mission Green Tab, leaders were able to distribute hundreds of gift cards donated by Valero to grateful soldiers.
Pvt Xiomara Cesareo of Florida said it sounded surreal when asked if senior officials were serving his meal. "It gives the feeling that we are all humans in this area, that we are all connected," Cesareo said. "It's my first Thanksgiving away from home, and it's hard to think about what it means to be away. It is a good time to be with our battalion today.
Charpentier believes soldiers will always remember how they were treated on their first Thanksgiving away from home. "For many of them, this may be the first time that they have had a meal served by their leaders," said Charpentier. "But I hope it won't be the last."